Zara, a renowned fashion brand recognized worldwide, has established itself as a prominent name in the fashion industry. Known for its trendy and affordable clothing, Zara collaborates with a diverse range of models to showcase its collections. These models not only grace the runways during fashion weeks but also feature in Zara's advertising campaigns, captivating audiences with their unique styles and impeccable modeling skills.
Zara's model lineup includes individuals from various backgrounds, representing the brand's commitment to inclusivity and diversity. From established faces in the fashion world to fresh and emerging talents, Zara's selection process ensures a mix of experienced professionals and up-and-coming stars, providing opportunities for both seasoned and aspiring models.
Zara Models Names List
Agnes Sokolowska
Alicja Tubilewicz
Alisha Nesvat
Allie Barrett
Amalie Moosgaard
Amalie Schmidt
Amar Akway
Anais Garnier
Anastasija Titko
Angelica Erthal
Annabel Longden
Anniek Abma
Apolline Rocco Fohrer
Braien Vaiksaar
Bruna Dapper
Cara Taylor
Ceval Omar
Charlotte Nolting
Cyrielle Lalande
Dani Witt
Daphne Groeneveld
Daria Khlistun
Dasha Maletina
Edie Campbell
Elizabeth Davison
Ella McRobb
Estella Brons
Freja Beha Erichsen
Georgia Palmer
Imaan Hammam
Inga Dezhina
Iris Landstra
Jane Moseley
Jessica Stam
Julia Ratner
Katty Trost
Lara Mullen
Larissa Marchiori
Laurijn Bijnen
Lea Julian
Lia Pavlova
Lina Zhang
Line Kjærgaard
Liza Ostanina
Lorena Maraschi
Lulu Tenney
Lululeika Ravn Liep
Malaika Firth
Maria Darts
Marie Sophie Wilson
Mariina Keskitalo
Marylou Moll
Michi Kat
Miranda Marquez
Moa Rikner
Nina Dapper
Nora Svenson
Nuria Rothschild
Ola Rudnicka
Parker Van Noord
Pasha Harulia
Peyton Knight
Polina Oganicheva
Quinn Mora
Rianne van Rompaey
Sabina Lobova
Sija Jure
Steph Smith
Sun Feifei
Tess McMillan
Vera Van Erp
Vickie Sorensen
Yeray Allgayer
Zanna Van Vorstenbosch
While the specific names of Zara's models may vary over time as the brand constantly refreshes its campaigns, it is common to see a combination of well-known models alongside rising stars. Zara's models embody the brand's ethos, showcasing the versatility of its clothing and inspiring customers to embrace their individuality through fashion.
Imaan Hammam walks the runway at the Versace fashion show during the Milan Fashion Week


From strutting down the catwalks of renowned fashion capitals to gracing the pages of prestigious magazines, Zara's models exude confidence, elegance, and style. With their distinctive features and captivating presence, these models play an integral role in bringing Zara's fashion vision to life, leaving a lasting impression on fashion enthusiasts and consumers around the globe.
By working with a diverse range of models, Zara aims to connect with its global audience, reflecting the varied tastes and preferences of its customers. Whether it's showcasing the latest trends, promoting sustainable fashion initiatives, or advocating for body positivity, Zara's models play a crucial role in communicating the brand's values and engaging with fashion-conscious individuals worldwide.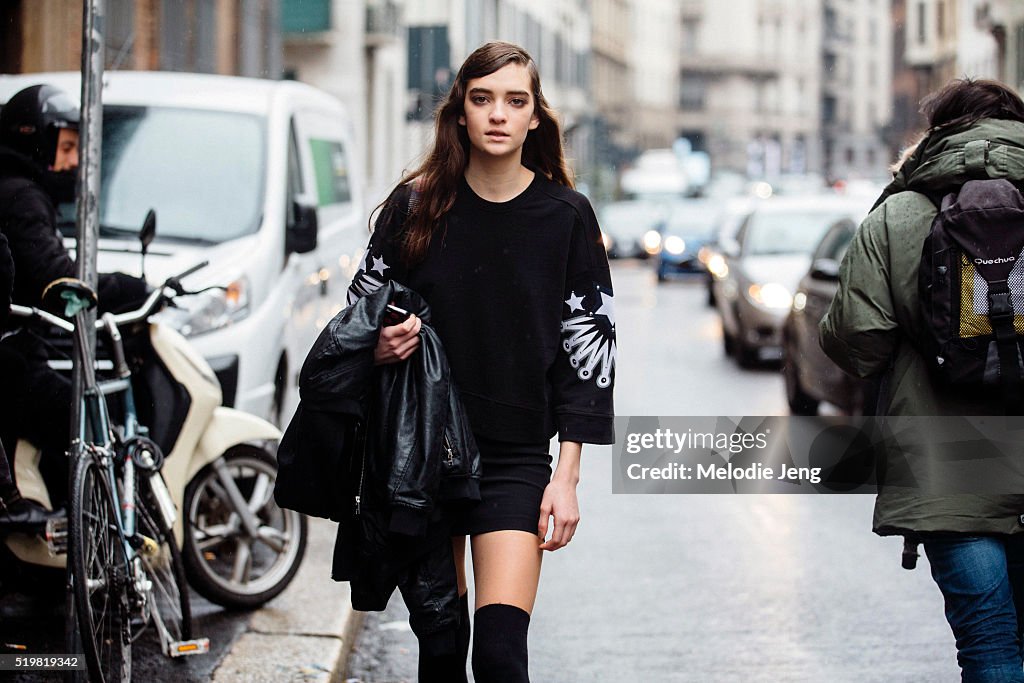 Model Julia Ratner wears wears a black sweater with prints on the sleeves and keeps her hair in a side-part with a clip after the Blumarine show during the Milan Fashion Week
While the specific names of Zara's models at any given time can be found through official Zara platforms, the constant rotation of talent ensures a fresh and dynamic representation of the brand's fashion offerings.
ZARA Official (@zara) Instagram
ARA's official Instagram account (@zara) had amassed an impressive 59 million followers. With such a massive following, ZARA's Instagram page is undoubtedly one of the most popular and influential fashion accounts on the platform.
ZARA's Instagram feed is known for its captivating visuals, showcasing their latest fashion collections, trendy outfits, and stylish accessories. The brand utilizes this platform to engage with its audience, offering fashion inspiration and promoting its products through eye-catching images and videos.
One of the reasons behind ZARA's significant success on Instagram is its ability to stay on top of the latest fashion trends and effectively communicate with its target audience. They regularly collaborate with popular influencers, celebrities, and models to further enhance their brand's visibility and reach.
The brand's Instagram Stories and IGTV feature allow ZARA to share behind-the-scenes glimpses of their photo shoots, fashion shows, and events, creating a sense of exclusivity and connecting with their followers on a more personal level.
Additionally, ZARA leverages Instagram as a tool for user-generated content, encouraging customers to share their #ZARAstyle and #ZARAootd (Outfit of the Day) photos. This strategy not only fosters a sense of community but also serves as free and authentic advertising for the brand.
As Instagram continues to be a powerful platform for fashion brands, ZARA has successfully positioned itself as a dominant player, leveraging its vast following and creative content to remain at the forefront of the fashion industry's digital landscape.