Emily Ratajkowski is a renowned American model and actress known for her striking looks and captivating presence. She rose to fame through her appearance in Robin Thicke's controversial music video for the hit song "Blurred Lines" in 2013. Since then, she has become a prominent figure in the fashion industry, gracing the covers of numerous magazines and walking the runways for renowned designers.
Tory Burch, on the other hand, is an esteemed American fashion designer and businesswoman. She launched her eponymous brand, Tory Burch, in 2004 and quickly gained recognition for her distinctive and timeless designs. Tory Burch has become synonymous with sophisticated and elegant fashion, offering a wide range of clothing, accessories, and footwear.
Emily Ratajkowski Goes Sheer for Tory Burch Spring/Summer 2023 Collection
Emily Ratajkowski and Tory Burch intersect in the fashion world through their collaboration on a variety of projects. Emily has been seen wearing Tory Burch designs at various high-profile events, showcasing her impeccable style and fashion-forward choices. As a fashion icon herself, Emily's endorsement of Tory Burch's creations further amplifies the brand's appeal and reinforces its position as a symbol of refined taste.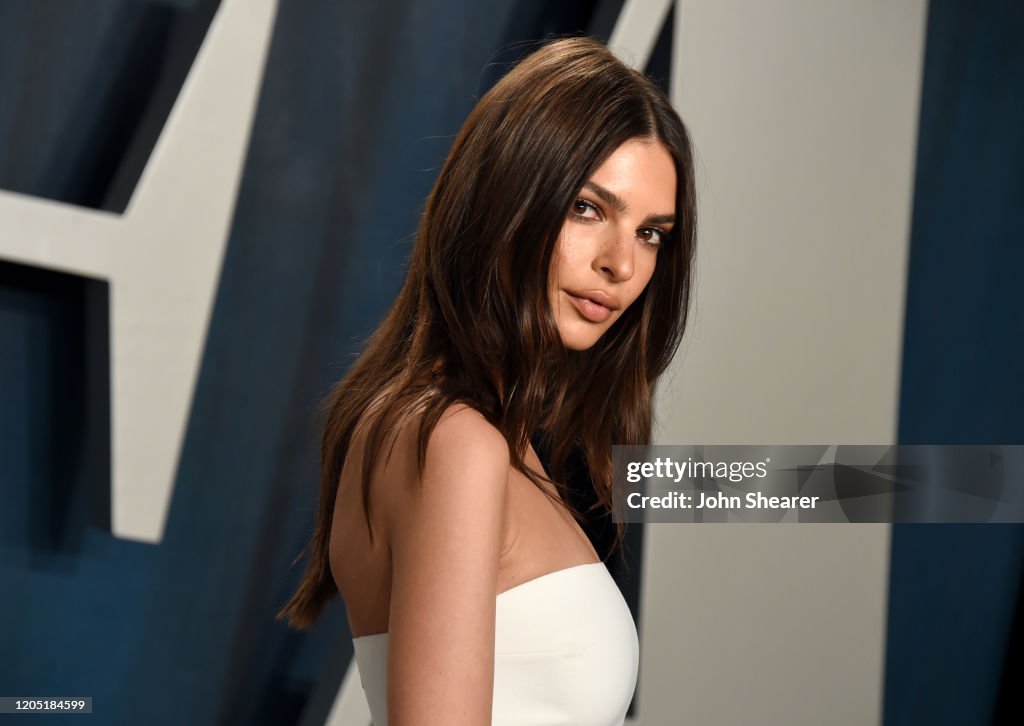 In the exciting campaign for the Tory Burch Spring 2023 collection, the stunning Emily Ratajkowski made a captivating statement by wearing a sheer turtleneck that perfectly embodied the essence of the season. Known for her impeccable style and ability to set fashion trends, Emily effortlessly showcased the brand's latest designs and captured the attention of fashion enthusiasts worldwide.
The sheer turtleneck worn by Emily Ratajkowski in the campaign was a testament to Tory Burch's ability to create pieces that are both sophisticated and on-trend. The delicate fabric allowed glimpses of skin, lending a sense of allure and femininity to the overall look. Its sheer nature also added an element of playfulness, making it a versatile piece that can be dressed up or down for various occasions. Perfectly suited for the spring season, the turtleneck exuded a sense of freshness and renewal. Its light and airy texture offered comfort while also being effortlessly chic. The sheer fabric allowed for breathability, making it an ideal choice for warmer weather. Emily Ratajkowski's choice to wear this piece showcased her fashion-forward approach, as well as the brand's ability to create designs that are both stylish and practical.
In turn, Tory Burch recognizes Emily Ratajkowski's influence and appeal, making her an ideal ambassador for the brand. The partnership between the two brings together Emily's innate sense of style and Tory Burch's commitment to creating timeless and sophisticated pieces. It showcases the brand's ability to cater to diverse audiences while maintaining its distinct aesthetic. Emily Ratajkowski's collaboration with Tory Burch extends beyond wearing their designs. She has also been involved in promoting the brand through various advertising campaigns and social media engagements. Emily's natural beauty and magnetic presence align seamlessly with Tory Burch's brand identity, helping to create a cohesive and impactful message for consumers.
Model Emily Ratajkowski walked the red carpet in Tory Burch at the highly anticipated 2023 Met Gala on Monday.
The highly anticipated 2023 Met Gala was a night filled with glamour, artistry, and unforgettable fashion moments. Among the numerous celebrities who graced the red carpet, the stunning model Emily Ratajkowski turned heads as she arrived in a show-stopping ensemble designed by Tory Burch. Emily Ratajkowski's choice to wear Tory Burch at the prestigious event was a testament to the brand's ability to create captivating and red carpet-worthy designs. The ensemble she wore showcased the perfect blend of elegance, sophistication, and contemporary style that has become synonymous with the Tory Burch brand.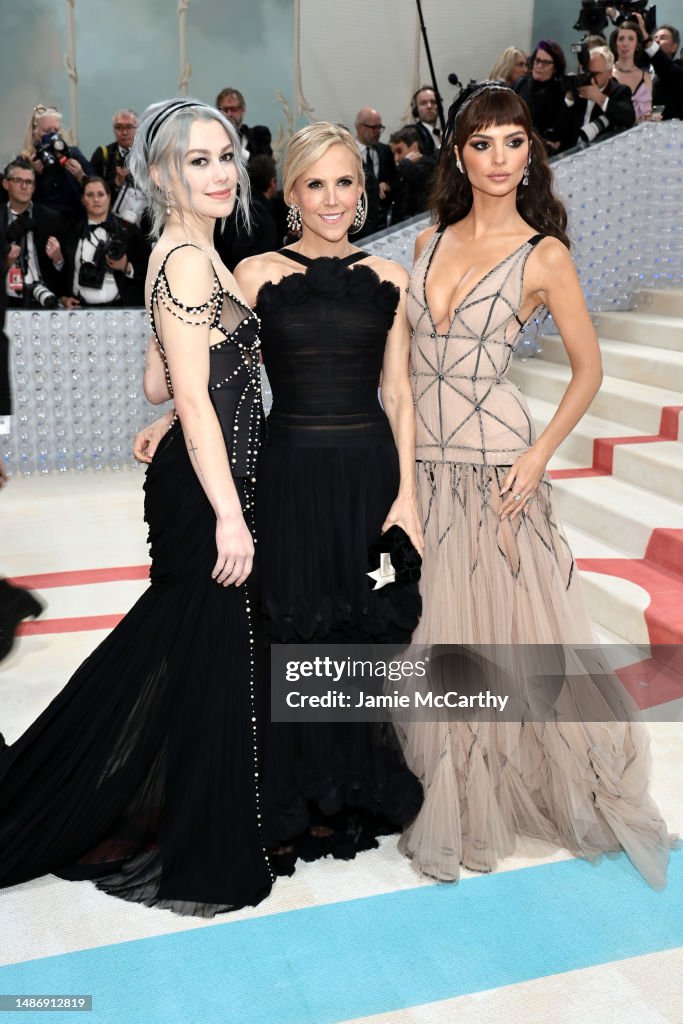 As she walked the red carpet, all eyes were on Emily and her Tory Burch creation. The attention to detail and impeccable craftsmanship of the ensemble made it clear why she stood out among the crowd. The design showcased a harmonious balance of intricate embellishments, luxurious fabrics, and a silhouette that accentuated Emily's natural beauty. Tory Burch's creation for the Met Gala perfectly encapsulated the event's theme, highlighting the fusion of fashion and art. The choice of colors, textures, and patterns demonstrated the brand's ability to create visually striking pieces that capture attention and spark conversation.
Emily Ratajkowski's presence in a Tory Burch ensemble at the Met Gala further solidified her status as a fashion icon. Known for her bold choices and fearless approach to style, she effortlessly carried the designer's creation with confidence and grace, leaving a lasting impression on fashion enthusiasts and industry insiders alike.
Emily Ratajkowski and Son Sylvester Star in Tory Burch Collection
In a heartwarming and fashionable collaboration, Emily Ratajkowski and her adorable son Sylvester took center stage in the latest campaign for the Tory Burch collection. The dynamic duo brought a touch of warmth and family connection to the fashion world, showcasing the brand's designs in a truly memorable way.
Emily Ratajkowski, known for her impeccable style and influential presence, joined forces with Tory Burch to create a campaign that celebrated the beauty of motherhood and the joy of sharing special moments with loved ones. The inclusion of her son Sylvester added an element of authenticity and tenderness to the campaign, resonating with audiences on a deeper level.
The campaign captured the essence of the Tory Burch collection, showcasing the brand's commitment to creating timeless and sophisticated pieces that cater to all aspects of a modern woman's life. Emily and Sylvester's interactions exuded love and playfulness, showcasing the versatility and comfort of Tory Burch designs.
Emily Ratajkowski effortlessly showcased the collection's clothing, accessories, and footwear, emphasizing their elegance and functionality. The campaign featured a range of looks, from casual and relaxed to chic and refined, demonstrating the versatility of the Tory Burch brand and its ability to cater to various occasions.
Together, Emily Ratajkowski and Tory Burch embody the fusion of glamour, elegance, and modernity. Their partnership highlights the powerful synergy that can be achieved when two influential figures in the fashion industry collaborate. Whether it's strutting down the runway in a Tory Burch ensemble or showcasing the brand's accessories in a high-fashion photoshoot, Emily Ratajkowski continues to play a significant role in elevating the appeal and reach of Tory Burch's designs. Through their collaboration, Emily Ratajkowski and Tory Burch have not only solidified their positions as fashion industry powerhouses but have also created a lasting impact on the world of style and aesthetics. Their partnership serves as an inspiration for fashion enthusiasts and showcases the transformative potential of merging creative forces.
Who wore Tory Burch at the Met Gala?
Phoebe Bridgers, Emily Ratajkowski
Who did Emily Ratajkowski play in iCarly?
Emily Ratajkowski gained worldwide recognition as a model and influencer, but prior to her rise to fame, she showcased her acting talents as Tasha, Gibby's girlfriend, on the popular television show iCarly.
How did Emily Ratajkowski get famous?
Emily Ratajkowski rose to fame through a combination of her striking beauty, captivating presence, and notable career milestones. While her breakthrough moment came with her appearance in Robin Thicke's controversial music video for the hit song "Blurred Lines" in 2013, her journey to fame started long before that.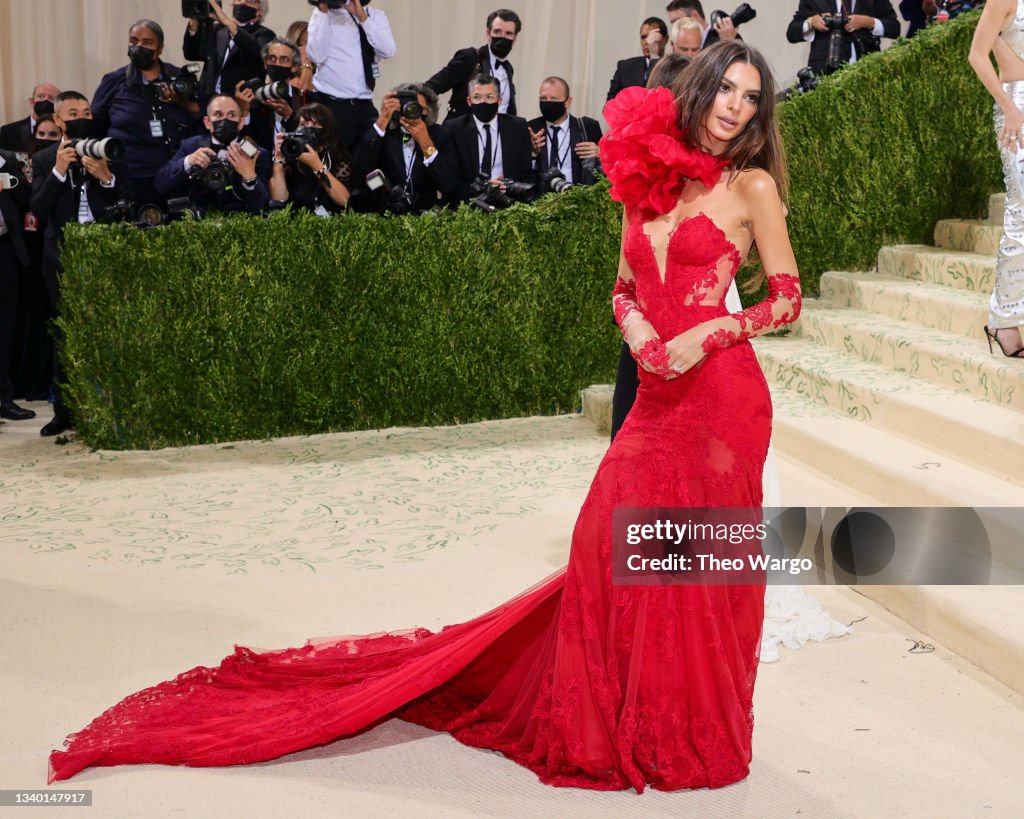 Emily initially gained attention through her work as a model. She began her modeling career at a young age and gained early recognition for her appearances in various fashion campaigns and magazine editorials. Her unique and alluring features, combined with her confidence in front of the camera, helped her stand out in the industry.
However, it was her role in the "Blurred Lines" music video that propelled Emily to global fame. The video garnered immense attention, both for its catchy tune and its controversial content. Emily's natural beauty and uninhibited presence in the video caught the eye of millions and instantly made her a recognizable figure in popular culture.
Following her breakout moment, Emily continued to make waves in the fashion and entertainment worlds. She graced the covers of numerous high-profile magazines, including Vogue, GQ, and Sports Illustrated, solidifying her status as a top model. Her social media presence also played a significant role in her rise to fame, as she garnered a massive following and became known for her unapologetic self-expression and body positivity.
Beyond modeling, Emily expanded her career into acting. She appeared in films such as "Gone Girl" (2014), "Entourage" (2015), and "I Feel Pretty" (2018), showcasing her versatility and talent as an actress.
Emily Ratajkowski's fame can be attributed not only to her stunning looks and talent but also to her ability to capture the public's attention and maintain a strong presence in various aspects of popular culture. Her status as a fashion icon, influencer, and actress has solidified her place as one of the most recognizable and influential figures in the entertainment industry.
Why is Emily Ratajkowski called EmRata?
Emily Ratajkowski is often referred to as "EmRata" as a nickname derived from her first and last name. The nickname "EmRata" is a shortened version of "Emily Ratajkowski," which is more convenient and catchy to use in informal settings, social media, or when referring to her in a casual manner.
Nicknames like these are common in the entertainment industry, where celebrities' names are often abbreviated or combined for simplicity or as a way for fans to refer to them more easily. In the case of Emily Ratajkowski, "EmRata" has become a widely recognized and used term to refer to her, reflecting her popularity and influence.