Bihar
in eastern India is one of the oldest inhabited
places
in the world with a history going back 3000 years. Amongst the most famous places to visit in Bihar is Gaya, which is a Buddhist & Hindu pilgrimage hub. Let's check out the complete list of top tourist places, sightseeing, attractions and things to do in Bihar. Bodhgaya, Nalanda, Vaishali, Pawapuri, Rajgir are top tourist destinations in Bihar.
Bihar is a state in East India, bordering Nepal. It is divided by the River Ganges, which floods its fertile plains. Important Buddhist pilgrimage sites include the Bodhi Tree in Bodhgaya's Mahabodhi Temple, under which the Buddha allegedly meditated. In the state capital Patna, Mahavir Mandir temple is revered by Hindus, while Sikhs worship at the domed, riverside Gurdwara of Takht Sri Harmandir Sahib Ji.
Here is a list of all the places to visit in Bihar to have a memorable expedition and know the culture and history of Bihar.
Mahabodhi Temple -UNESCO World Heritage Site
The Mahabodhi Temple, a UNESCO World Heritage Site, is an ancient, but much rebuilt and restored, Buddhist temple in Bodh Gaya, marking the location where the Buddha is said to have attained enlightenment. Bodh Gaya is about 96 km from Patna, Bihar state, India.
The temple is situated in Bodh Gaya, Bihar 824231 and has a built-up height of 55 m and a sprawling campus of 5 ha. It is believed to be constructed in 260 BC. It is an inscription of 2002 (26th Session).
Golghar – Large Granary in Patna
The Golghar or Gol Ghar, is a large granary located to the west of the Gandhi Maidan in Patna, capital of Bihar state, India. It is situated Opposite Govt. Girls High school, Ashok Rajpath Rd, Patna, Bihar 800001. The Golgahar has a height of 29 m and It is believed to be built on 20 July 1786 under supervision of Architect Captain John Garstin. It is an example of architecture and engineering.
Patna Museum - State Museum in Bihar
Patna Museum is the state museum of the Indian state of Bihar. Started on 3 April 1917 during the British Raj to house the historical artifacts found in the vicinity of Patna, it is in the style of Mughal and Rajput architecture and is known locally as the Jadu Ghar. Patna Museum is Located in premises of Courtyard which is an open sky garden in Budh Marg, Lodipur, Patna, Bihar 800001. It was opened for public in 1917, The museum has famous Lohanipur torso which is a damaged statue of polished sandstone from 3rd century BCE ~ 2nd century CE. As per 2007 records, the museum grabs 8,00,119 visitors every year.
Barabar Caves - Oldest Surviving Rock-Cut Caves
The Barabar Hill Caves are the oldest surviving rock-cut caves in India, dating from the Maurya Empire, some with Ashokan inscriptions, located in the Makhdumpur region of Jehanabad district, Bihar, India, 24 km north of Gaya. It is present in Barabar Hill Road, Barabar, Sultanpur, Bihar 804405. It was built and founded in 322–185 BCE. Moreover, it is a part of Barabar and Nagarjuni hills.
Sanjay Gandhi Jaivik Udyan – Zoo in Patna
Sanjay Gandhi Jaivik Udyan is located off Bailey Road in Patna, Bihar, India. The park was opened to the public as a zoo in 1973. The park is Patna's most frequented picnic spot, with more than 36,000 visitors on New Year's Day alone in 2011. It is situated in Raj Bhavan, Bailey Rd, Rajbansi Nagar, Patna, Bihar 800001 spread over sprawling 62 ha. The zoo was opened in 1973 for public viewing and since then it has been a tourist hotspot. Notable animals found here are Shrishti, Asha, Raju, Bhima, Ayodhya, Samrat.
Giant Buddha - Buddhist Pilgrimage
The Giant Buddha statue is one of the many stops in the Buddhist pilgrimage and tourist routes in Bodhgaya, Bihar. The statue is 19.507 m high in meditation pose or dhyana mudra seated on a lotus in the open air. It took seven years to complete with the help of 12,000 masons. It is situated near 80fit buddha statue, Bodh Gaya, Bihar 824231. The Statue was constructed under the supervision of Daijokyo Buddist Temple which is its legal owner. Rishikesh Dasgupta was the lead artist in designing this statue. The construction of the statue took over 7 years. It started in 1982 and the statue was inaugurated on 18 November 1989.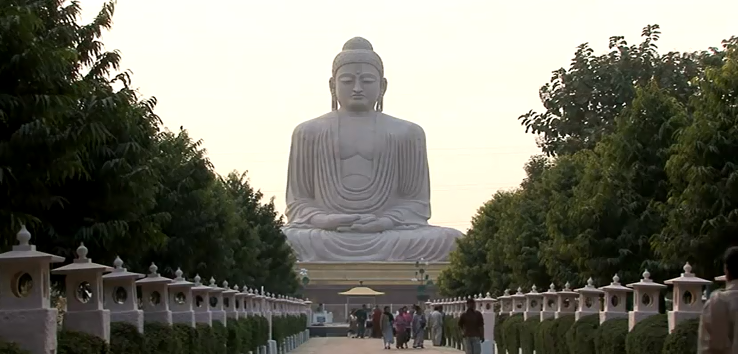 Patna Sahib Gurudwara - Harmandir Sahib, Sikh Shrine
Takht Sri Patna Sahib also was known as Harmandir Sahib, is a Gurdwara in the neighborhood of Patna Sahib, India. It was to commemorate the birthplace of Guru Gobind Singh, the tenth Guru of the Sikhs on December 1666. It is built in Sikh architecture style and houses three temples. This Gurudwara was built under the supervision of Maharaja Ranjit Singh of Punjab.
Mahatma Gandhi Setu - Bridge Over the River Ganges
Mahatma Gandhi Setu is a bridge over the river Ganges connecting Patna in the south to Hajipur in northern Bihar. Its length is 5,750 meters and it is the second-longest river bridge in India. It was inaugurated on May 1982 by the then Prime Minister, Mrs. Indira Gandhi. The bridge construction started in 1972 and took a 10 years long period to get completely built. The Gandhi Setu Bridge is present on Chapra-Patna Highway, Terahrasia, Bihar 844101.
Kakolat Falls - Waterfall Located in the Nawada
Kakolat is the name of a waterfall located in the Kakolat, Nawada district, Bihar, India. This waterfall has a height of 46 m and an elevation of 49 m. The Longest drop from the Kakolat waterfall is from 50 m height.
Funtasia Water Park - Amusement and Waterpark
Funtasia Water Park is an amusement and waterpark located in Patna, India spread over a sprawling 2 ha area. The park contains many attractions such as numerous water slides and water playgrounds. The park is the first water park in Bihar built in 2012. The park is owned and administered by Mumbai-based Takshila Seas & Resorts Private Limited. It is situated in Parsa Bazar - Sampatchak Main Rd, Sampatchak, Patna, Bihar 804453.
Bihar Museum - Museum located in Patna
Bihar Museum is a museum located in Patna. It was partially opened in August, 2015. 'The children's museum', the main entrance area, and an orientation theatre were the only parts opened to the public in August 2015. Later, in October 2017 remaining galleries were also opened.
Buddha Smriti Park
Buddha Smriti Park also known as Buddha Memorial Park is an urban park located on Frazer Road near Patna Junction in Patna, India. This park has been developed by the Bihar Government to commemorate the 2554th birth anniversary of the Buddha. This park was inaugurated by the 14th Dalai Lama.
Tomb of Sher Shah Suri
The tomb of Sher Shah Suri is in the Sasaram town of Bihar state, India. The tomb was built in memory of Emperor Sher Shah Suri, a Pathan from Bihar who defeated the Mughal Empire and founded the Suri Empire in northern India. The tomb of Shar Shah Suri is located exactly at J P Nagar, Laxmiganj, Sasaram, Bihar 821115, Sher Shah Suri Tomb has a height of 37 m built with Sandstone. It also houses burials of Islam Shah Suri, Sher Ali Khan, Olaf Caroe.
Srikrishna Science Centre – Science Museum
Srikrishna Science Centre is a science museum in Patna, Bihar, India which was named after the first Chief Minister of Bihar, Sri Krishna Singh. It was inaugurated on 14 April 1978, by the Minister of Education, Shri Thakur Prasad Singh. Shri Amitabh is the Project Coordinator in Shri Krishna Science Center.
Mahavir Mandir – Holiest Hanuman Temple
Mahavir Mandir is one of the holiest Hindu temples dedicated to Lord Hanuman, located in Patna, Bihar, India. Millions of pilgrims visit the temple every year. Acharya Kishore Kunal is the secretary of the Mahavir Mandir Temple Trust, Patna. It is one of the holiest religious places to visit in Bihar, India.
Dungeshwari – Caves of Buddha's Meditation
Dungeshwari is famous for its three cave in which there is a beautiful golden statue of Buddha, which is about 6 feet tall. It is believed that Lord Buddha meditated in the three caves here before continuing his journey to Bodhgaya.
Patna Planetarium – Science Complex
Indira Gandhi Planetarium is located in Patna's Indira Gandhi Science Complex. The planetarium was constructed through Bihar Council on Science & Technology at a total cost of about INR 11 Crores. As per 2007 records; the planetarium saw a visitor footfall of 985,100.
Jal Mandir – Temple dedicated to Lord Mahavira
The Jal Mandir meaning Water Temple, also known as Apapuri, in Pawapuri, meaning a town without sins, in the Indian state of Bihar, is a highly revered temple dedicated to Lord Mahavira, the 24th Tirthankara, which marks the place of his cremation. Mahavira attained Nirvana in Pawapuri in 528 BC.
Venu Van – Park in North of Lakshmi Narayan Temple
Venu Van is a pleasant park just north of the Lakshmi Narayan Temple. It is believed to be the site where bamboo grove was given to Buddha by King Bimbisara. It has a mixed lure of grand palaces, exotic food and mysterious temples.
Patan Devi - Siddha Shakti Pithas in Bihar
Patan Devi, also called Maa Patneshwari, is the oldest and one of the most sacred temples of Patna. It is regarded as one of the 51 Siddha Shakti Pithas in India. It is situated at Maharajganj, which is approximately six miles towards the east of Patna railway station. The Temple houses black stone idols of Goddess Kali, Goddess Lakshmi, Goddess Saraswati, Bhairav. As it is a Shakti Peeth; a large number of religious people visit this place annually.
Rohtasgarh Fort – Old Fort in Son River valley
The Rohtasgarh or Rohtas Fort is located in the Son River valley, in the small town of Rohtas in Bihar, India. The Fort is built in Granite in Kaimur Hills and controlled by the Government of Bihar. The Fort is constructed on a plateau at a height of 1500 ft above the sea level. It finds place in list of the Largest and Strongest Hill Forts in India.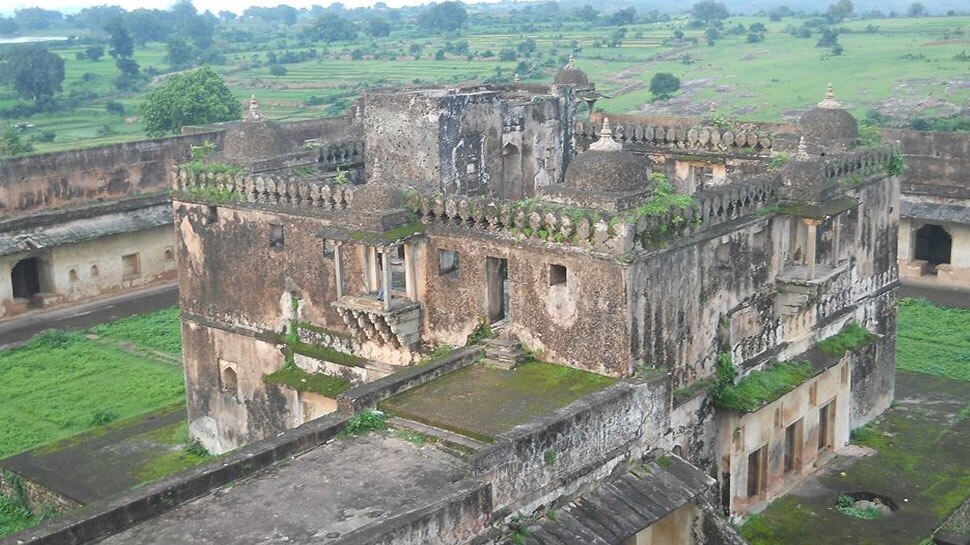 Kanwar Lake Bird Sanctuary
The Kanwar Taal or Kabar Taal Lake located in Begusarai district of Bihar, India, is Asia's largest freshwater oxbow lake. It is approximately three times the size of the Bharatpur Sanctuary. It was established in 1987 in an area of 67.5 km². The lake has a majestic 106 species of resident birds, 59 species of migratory birds and more than 41 species of fish.
Mundeshwari Temple - Ancient Shiva Shakti Temple
The Mundeshwari Devi Temple is located at Kaura in Kaimur district in the state of Bihar, India on the Mundeshwari Hills at an elevation of 608 m (1,995 ft). It is an ancient temple dedicated to the worship of Lord Shiva and Shakti and is considered one of the oldest Hindu temples in India. It is believed to be constructed in 625 AD.
Mandar Parvat – Small Mountain in Banka
Mandar Parvat, also known as Mandar Hill is a small mountain situated in Banka district under Bhagalpur division of state of Bihar. It is about 700 ft high and approximately 45 km south of Bhagalpur city off Bausi, a place located on the state highway between Bhagalpur and Dumka. It is said to have relation with Amrit Manthan as depicted in The Skanda Purana.
Saptaparni Cave – Buddhist Cave Site
Saptaparni Cave, literally Seven-leaves-cave, is a Buddhist cave site about 2 kilometres southwest from Rajgir, Bihar, India. It is embedded in a hill. This cave is believed to be located on a hill where the first Buddhist council was held immediately after the Buddha attained Nirvana. It is a sacred place for both Hindus and Buddhists as there are relics of Buddhist, Jain and Shiva Temples.
Eco Park – Park in Patna, Bihar
Eco Park is one of the first of its kind eco parks in Bihar. This is a popular retreat destination for locals and visitors. Boats can be rented at the lake in this large park with fountains, food stalls & a children's area.
Kesaria Stupa – Buddhist Stupa in Kesariya Road
Kesariya Stupa is a Buddhist stupa in Kesariya, located at a distance of 110 kilometres from Patna, in the Champaran district of Bihar, India. The first construction of the Stupa is dated to the 3rd century BCE by Great Emperor turned Monk Ashoka. Kesariya Stupa has a circumference of almost 400 feet and raises to a height of about 104 feet. Thus it is the tallest and biggest Buddhist Stupa in the world.
Jalan Museum - Private Museum in Bihar
Jalan Museum is one of the two private museums in Bihar. Built in 1919, the house is known for the collection of objects, art and antiques that is a personal achievement of Diwan Bahadur Radha Krishna Jalan who was a businessman and art collector from 1882-1954. Part of the building continues to be a private residential area of the Jalan family (BM Jalan, GM Jalan and SM Jalan).
Maa Mangla Gauri Mandir – Mahashakti Peeth
The Mangla Gauri temple in Gaya, Bihar, India has been mentioned in the Padma Purana, Vayu Purana and Agni Purana and Shri Devi Bhagwat Puraan and Markandey Purana in other scriptures and tantric works. This temple is among the eighteen maha shakti peeth which make it one of the must places to visit in Bihar. The present temple dates back to the 15th century. It has 9 temples of Gods and Goddess.
Deo Surya Mandir – Temple Built by Lord Vishwakarma
Dev Surya Mandir is situated Deo, Bihar which is believed to be built by Dev Shilpi Vishwakarma. It has been the center of faith for Suryopasana for centuries. Traditionally described in Hindu myths, it is considered one of the twelve Sun Temples built by Sambha, the son of Krishna. This temple is visited by 13-15 lakh visitors every year.
Hungama World – Amusement Park in Patna
Hungama World is 2
nd
water and amusement park located on Danapur Bihta road that was opened up in 2015 and have introduced some stunning new rides and amusement activities. It has 4 swimming pools and umpteen water that make water adventure exciting. It is a perfect spot for entertainment for families and friends.
Vishwa Shanti Stupa Rajgir
Vishwa Shanti Stupa is built on Ratnagiri Hills, at an elevation of 100 feet and is believed to be the place where Lord Buddha delivered most of his teachings. The stupa was constructed by Buddhist community from Japan to deliver a message of non-violence to the world.
Sita Kund - Place of Fire Ordeal of Devi Sita
The Punaura Dham, Janki Mandir is a Hindu pilgrimage site in Sitamarhi district, in the India in state of Bihar, which has an ancient Hindu temple. It is situated 5 km west of Sitamarhi town and a popular visitor's attraction. As per mythology; Sita had given the ordeal in the Sitakund temple complex and proved his purity. According to religious belief, Sitakund originated at the site of the ordeal, from where hot water is still flowing. The length and width of Sita Kund is 20 feet and 12 feet depth.
Royal Bhutan Monastery – Buddhist Temple in Bihar
Royal Bhutan Monastery is a Buddhist Temple in Bodh Gaya, Bihar which was constructed by the King of Bhutan in the praise of Lord Buddha and the premise showcases important instances from the life of Lord Buddha in Clay Carvings.
Munger Fort – Castle Fort in Munger, Bihar
The Munger Fort, located at Munger, in the state of Bihar, India, is built on a rocky hillock on the south bank of the Ganges River. It is believed to be built in 14
th
Century during the early rule of Slave dynasty of India. It houses Tombs and Religious Monuments inside its complex.
Nalanda Archaeological Museum
Situated in Nalanda District of Bihar; it is a major tourist attraction. Nalanda Archaeological Museum is a great place to explore the history of Bihar. It showcases a beautiful collection of Buddhist and Hindu bronzes and a number of undamaged statues of the Lord Buddha. . It has relics of art and architecture of Gupta and Pala periods and relics of Nalanda University complex built in the 5th Century.
Kaimur Wildlife Sanctuary
Kaimur Wildlife Sanctuary is located in Kaimur District of Bihar, near the town of Bhabhua. It is the largest sanctuary in the state and occupies an area of about 1342 km². The wildlife sanctuary has Avg. winter temperature: 5 °C (41 °F) and Avg. summer temperature: 37 °C (99 °F). It also has a few waterfalls and lakes. It has 70 species of resident birds, several animals such as Bengal tigers, Indian leopards, Indian boars, sloth bears, sambar deer, chitals, four-horned antelope and nilgais and migrant birds. Fish can be found in Anupam Lake and Kalidah Lake. Snakes species of Cobra, Krait, Pythons are also found easily.
ISKCON Temple Patna
Sri Sri Radha Banke Bihari Ji Mandir, generally known as the ISKCON Patna Temple, is the upcoming temple on Buddha Marg in Patna, India. The construction of the temple was started in 2007 and is expected to be completed by 2017 with an estimated budget of INR 51 crore. Sri Sri Gaur Nitai and Sri Sri Jagannath Baladev Subhadra are main deities in ISKCON Temple in Patna.
Gupta Dham – Old Shiva Temple
Gupta Dham is one of the oldest Shiva Temples in India. As per Legends, Lord Shiva ran away from Kailash to save himself from Bhasmasur and was hiding in the secret place of the cave until Lord Vishnu Killed Bhasmasura. Later these caves came to be known as Gupta Dham. The Cave is 363 foot long in dense forest.
Ajatshatru Fort – Castle in Rajgir
This fort is located in the Rajgir was built by the Haryanka dynasty king Ajatshatru during his rule over the Magadha empire around 2500 years ago in the 6th century BC. The fort is spread over 6.5 sq. km. Earlier the fort had 32 doors but only one door of the fort, at the northern side of it, is still surviving. Presently only ruins of Ajatshatru Fort are found but is is a great place to visit in Bihar if you love history.
Ajgaivinath Temple - Shrine of Gaibinath Mahadeo
Situated in Sultanganj, Bihar; Ajgaivinath Temple is one of the rare Shiva Temples dedicated to Gaibinath Mahadeo. This is the place where deity Lord Siva has existed as 'Swayambhu'. It is situated in the streams (watercourse) of river Ganges. This temple is believed to be built during the rule of the Pala dynasty.
Punaura Dham - Birth Place of Goddess Sita
The Punaura Dham is a Hindu pilgrimage center in Sitamarhi district, Bihar. As per legends, Saint Pundrik's Ashram was situated here. Also known as Janki Mandir, Sita-Kund place is the honour of being the birthplace of Hindu Goddess, Sita where Rajarshi Janak found her in an earthen pot during ploughing and later, she was brought up at his palace in Janakpur. Kingdom of Rajarshi Janaka spread from Janakpurdham (Nepal) to Baidyanathdam.
Pretshila Hill – Home of Denom Gaya
Pretshila Hills are on opposite side of Gaya. It is believed that a demon called Gaya was very much shocked at the distress caused by death. He expressed his sorrow to Lord Vishnu. Lord Vishnu was very happy to see that a demon had such a kind heart and gave him a boon by virtue of which he could forgive the sinners.
Ahilya Sthan – 1st Ram Janki Temple in India
Ahilya Sthan is a Hindu Temple in Ahiyari, Bihar which is associated to the legendary tale of Sage Gautam and his wife Ahilya. This magnificent temple was built in 1735 AD by the then king of Darbhanga Chhatra Singh & Maharaja Rudra Singh. It is credited to be the first Ram Janki Temple in India. The village also contains various other temples and mosques.
Hariharnath Temple – Temple Built by Lord Rama
Hariharnath Temple is an old era Hindu temple in Sonpur, Bihar. It is believed to be built by Lord Rama, an Avatar of God Vishnu while he was on his way to Swayamvar of Devi Sita. People who have faith in Rama visit this place and perform religious rites. After that they also take bath in holy meeting place of River Ganga and River Gandak. This place is also the site of the mythological battle of Gaj-Grah.
Quila House – Jalal Museum
Quila House is a private residential house constructed by Diwan Bahadur Radha Krishan Jalan on the banks of the Ganga river in Patna. It is known for hosting the Jalan collection of art and antiques. It showcases a collection of 10,000 objects in museum. The museum is collectively owned by BM Jalan, GM Jalan and SM Jalan.
Wat Thai Monastery - Buddhist Temple With Buddha Statue
One of the most beautiful monasteries in India and one of the best places to visit in Bihar, Wat Thai in Bodh Gaya in Bihar was built by the Royal Kingdom of Thailand on request by the Indian Prime Minister Jawarhalal Nehru. It was built to commemorate 2500 years of Buddhism and further strengthens Indo-Thai relations. Best attraction of Temple is large 'ashtadhatu' statue of Buddha which resides inside the temple.
Konhara Ghat - Site of Gaja- Graah Battle
Konhara Ghat is one of the best ghats in Gandak-Ganga river banks where both worship and cremation happens. As per mythology; Konhara Ghat is the site of battle between Gajaraj and Graah both are Gandharvas incarnated as animals due to curse. People asked "Kaun Hara" giving name to the place Kaunhara. It is situated in river banks at amalgam of Ganga-Gandak in Hajipur.
Gurudwara Handi Sahib - Sikh Shrine in Bihar
Gurudwara Handi Sahib is one of the most important sikh shrines in Bihar. It is believed that Guru Tegh Bahadur returned to Punjab leaving his family behind at Patna Sahib. His family made their first halt at Gurudwara Handi Sahib after leaving Patna Sahib. A lady served them a kettle full of khichdi after which the place came to be known as Gurudwara Handi Sahib.
Padri Ki Haveli - Oldest Church in Bihar
Padri-Ki-Haveli also known as the Visitation of the blessed Virgin Mary, is the oldest church in Bihar built by Roman Catholics 1713 at a cost of 700 INR. It suffered many attacks by rebellions during British Raj. It was redesigned as per american colonial architecture in 1772 with the foundation stone of this church has a dimension of 70 feet of length, 40 feet of width and 50 feet of height. It was also training center for Mother Teresa.
Manjhar Kund – Finest Waterfall in India
Manjhar Waterfall is situated between Dehri-on-sone and Sasaram, the district headquarters of Rohtas District, Mahua Dihra in Bihar. This waterfall is one of the finest falls in India.
Chanakya ki Gufa – Residential Cave of Chanakya
Situated in Dharamshala Ghat in Patna, Bihar; Chanakya Gufa is the place where Chanakya lived for a long period. He sat here for meditation and lived away from glitters of Magadh Empire during Nanda Empire.
Surya Kund – Hot Water Pind in Gaya
Surya Kund is located on the west side of the Vishnupad temple in Gaya. As per belief; A person gets free from all sins after taking a bath in Surya Kund. Temperature of water in Surya Kund has a temperature of 27°C to 45°C in Summer and 9°C to 26°C in Winter.
Brahmayoni Hill – Sacred Hill Station in Gaya
Brahmayoni Hill is situated in Maranpur in Gaya, Bihar. It is a sacred Hill Station which has mention in Mahabharata and Buddhist scriptures. It is a hill where Buddha preached the Fire Sermon (Adittapariyaya Sutta) and enlightened thousand former fire-worshipping ascetics. There is a temple dedicated to female energy of Brahma (Brahmyoni). This hill has Two caves namely Brahmayoni and Matreoni. People need to climb up 424 high stone steps so as to reach the top of the hill.
Bhaluni Dham – Hindu Temple for Goddess Durga
Bhaluni Dham is a Hindu temple in Samhauti, Bihar dedicated to Goddess Durga and also has Maa Yakshini Bhawani Temple. There is a large flock of monkeys residing here.
Tergar Monastery – Represents Karma Kagyu and Nyingma
Tergar Monastery is a majestic Buddhist temple situated in Bodh Gaya, Bihar, known for its richly ornate, vibrant facade, lofty prayer halls & shrines. Tergar Monastery is the seat of the 7
th
Yongey Mingyur Rinpoche and the residence of HH Karmapa in Bodhgaya during the Karma Gunchoe debates.
Narmadeshvar Shiv Mandir – Adobe of Bāṇaliṅga Shivalinga
Narmadeshvar Shiv Mandir is a religious place of worship in Ramnagar, Bihar for Hindus. It houses the Bāṇaliṅga Shivalinga which is one of the Shaktipeeths in India. It is a destination of religious importance.
Vishnudham Mandir – Vishnu Temple Built by Carpenter
Vishnudham Mandir is a Hindu temple in Chaiyan Pali, Bihar. It is situated on the border of the village Bherwania & Sadiha, where a statue of Lord Vishnu was found by a carpenter underneath a tree in 1998. The temple was constructed by local villagers and authorities, at the site of the statue.
Valmiki National Park - Tiger Reserve and Wildlife Sanctuary
Valmiki Tiger Reserve and Wildlife Sanctuary is the 18th Tiger Reserve of India and only tiger reserve in Bihar State. It lies with a large area of 800sq. km in the north-western most West Champaran district of Bihar in eastern most limit of the Himalayan Terai forests. It also touches India- Nepal border on the banks of river Gandak. Today Valmiki National Park is home to many species of animals such as tiger, rhinoceros, black bear, leopard.
These were all the top places to visit in Bihar for retreat and vacation. It includes magnificent temples, historical relics, Buddhist Monasteries, Reserve Parks and Sanctuary, Modern Amusement Parks, Museums, Science Centers, Markets and everything that tourists can do to retreat in Bihar. These are the major attractions of Bihar which makes Bihar incredibly beautiful.