Manali is a high-altitude Himalayan resort town in India's northern Himachal Pradesh state which has a number of places to visit. It has a reputation as a backpacking center and honeymoon destination. Set on the Beas River, it's a gateway for skiing in the Solang Valley and trekking in Parvati Valley. It's also a jumping-off point for paragliding, rafting and mountaineering in the Pir Panjal Mountains, home to 4,000m-high Rohtang Pass.

The Mall Road and its bazaar are the town's focal point, while the Old Manali neighborhood is home to traditional stone buildings, apple orchards and the Hindu Manu Temple. Across the Manaslu River on a forested hilltop is wood-carved Hadimba Devi Temple, built-in 1553 and dedicated to a Hindu goddess. The Museum of Himachal Culture and Folk Art preserves local crafts and heritage. In the Tibetan quarter, the Buddhist monastery Gadhan Thekchhokling is recognizable by its yellow, pagoda-style roof. East of the Beas River is Vashisht, a village known for its hot springs.


Things to do and Places to Visit in Manali
Hidimba Devi Temple

Hidimba Devi Temple, locally known as Dhungari Temple, also known variously as the Hadimba Temple, is located in Manāli, a hill station in the State of Himāchal Pradesh in north India. It is an ancient cave temple dedicated to Hidimbi Devi, wife of Bhima, a figure in the Indian epic Mahābhārata.
Address: Hadimba Temple Rd, Old Manali, Manali, Himachal Pradesh 175131
Completed: 1553
Manu Temple
This historical Hindu temple in a serene setting backdropped by mountains is accessible by foot.
Address: Old Manali, Manali, Himachal Pradesh 175131
Manali Sanctuary
The Manali Sanctuary is a wildlife sanctuary in Himachal Pradesh in northern India. The sanctuary starts about 2 km from Manali. It is the catchment of Manalsu khad. A path from Manali log huts and Dhungri temple passes through dense Deodar, Kail, Horse chestnut, Walnut and Maple forests.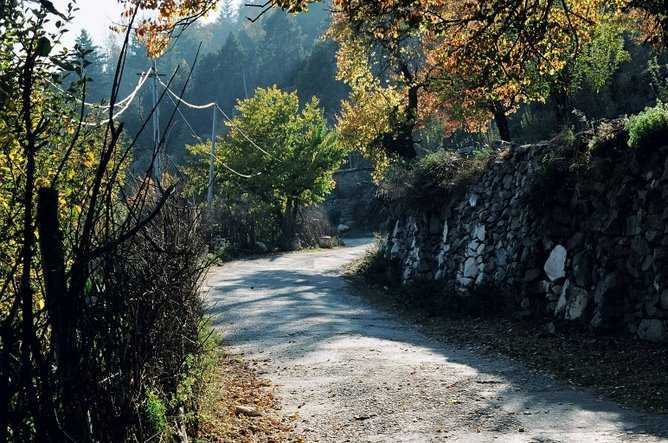 Address: Circuit House Marg, Manali, Himachal Pradesh 175131
Mall Road
Mall Road is the main street in Manali, city of Himachal Pradesh, India. The offices of municipal corporation, fire service, and police headquarters are located here. Automobiles, except emergency vehicles are not allowed on this road.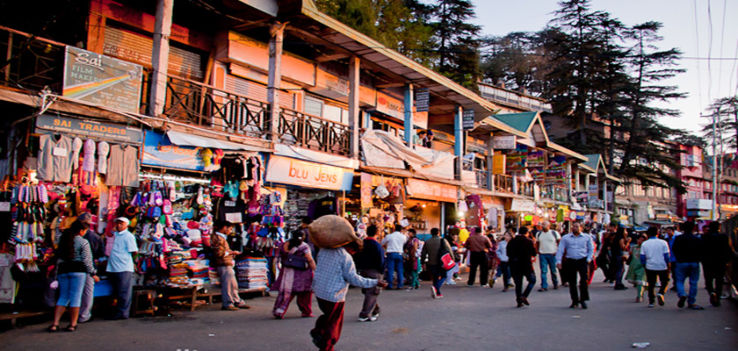 Museum of Himachal Culture & Folk Art
Small museum showcasing Himachal heritage with various traditional objects & building models.
Address: Utopia Comlex, Near Hadimba Temple, Hadimba Temple Rd, Siyal, Manali, Himachal Pradesh 175131
Jogini Falls
This picturesque waterfall in a remote, tranquil setting has shrines below it & is sacred to locals.
Address: Vashist, Himachal Pradesh 175103
Bhrigu Lake
Bhrigu Lake or Brighu Lake is a lake located at an elevation of around 4,300 metres in Kullu district, Himachal Pradesh, India. It is located to the east of Rohtang Pass and is around 6 kilometres from Gulaba village.
Surface elevation: 4,300 m
Location: Kullu, Himachal Pradesh, India
Solang Valley
Solang Nala derives its name from combination of words Solang and Nallah. It is a side valley at the top of the Kullu Valley in Himachal Pradesh, India 14 km northwest of the resort town Manali on the way to Rohtang Pass, and is known for its summer and winter sport conditions.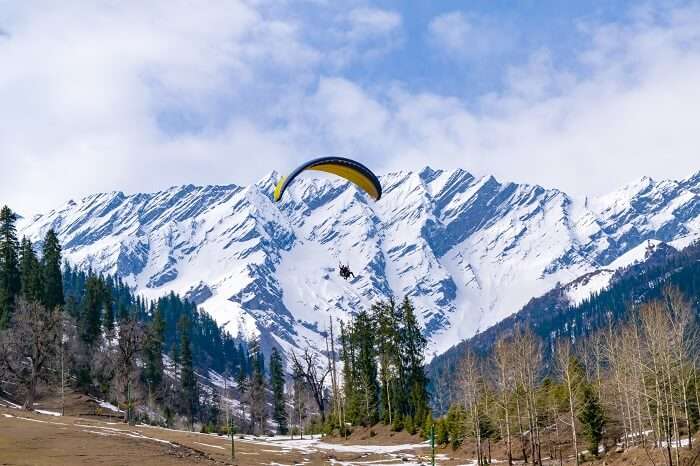 Location: Manali, India
Floor elevation: 2,560 m (8,400 feet)
Rohtang Pass
Rohtang Pass, is a high mountain pass on the eastern Pir Panjal Range of the Himalayas around 51 km from Manali. It connects the Kullu Valley with the Lahaul and Spiti Valleys of Himachal Pradesh, India.
Elevation: 3,978 m
Road: Leh Manali Highway
Location: India
Operator: Border Roads Organisation
Range: Himalayas, Pir Panjal Range
Did you know: Known for its scenic beauty, Rohtang Pass holds strategic importance for India.
The Great Himalayan National Park
The Great Himalayan National Park, is one of India's national parks, is located in Kullu region in the state of Himachal Pradesh. The park was established in 1984 and is spread over an area of 1,171 km² at an altitude of between 1500 and 6000 m.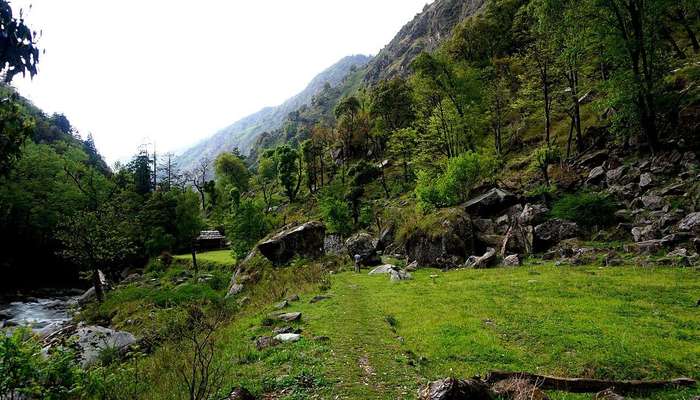 Address: Forest Office Rd, Shamshi, Himachal Pradesh 175126
Area: 452 mi²
Established: 1984
Bijli Mahadev Temple
Bijli Mahadev is one of the sacred temples of the Indian state of Himachal Pradesh. It is located at an altitude of about 2,460m in the Kullu Valley. Bijli Mahadev is one of the ancient temples in India. Located 22 km from Kullu across the Beas river, it can be approached by a rewarding trek of 3 km.
Address: Bijli Mahadev Rd, Kharal, Himachal Pradesh 175138
Pandoh Dam
The Pandoh Dam is an embankment dam on the Beas River in Mandi district of Himachal Pradesh, India. Under the Beas Project, the dam was completed in 1977 and its primary purpose is hydroelectric power generation.
Height: 76 m
Opened: 1977
Spillway capacity: 9,939 m
3
/s (350,992 cu ft/s)
Location: Mandi district
Hydraulic head: 335 m (1,099 ft)
Turbines: 6 x 165 MW (221,000 hp) Francis-type
Himalayan Nyinmapa Tibetan Buddhist Monastery
This temple, containing a two-storey statue of the historical Buddha, was built in 1957. The land was donated to commemorate the death of the Wazir of Lahaul's son, who died while serving with the UN in Laos.
Located very close to the Mall road in Manali, the contrast in the hustle and bustle of the Mall road and the serenity of Himalaya Nyingmapa Buddhist Temple is often spoken about. Anyone who wants to calm their minds is welcome into the monastery. In fact, the management has even taken efforts and put signs to direct tourists in the right direction around the Stupas without being confused or clueless about it.
It is one of the best attractions in Manali to observe Buddhist Monks go about their prayer services and daily activities. Himalaya Nyingmapa Buddhist Temple is a perfect place to get a glimpse into the spiritual importance of Buddhism and must be visited while exploring Manali.
Arjun Gufa, Manali
Arjun Gufa is considered to be a legendary natural formation in Manali. The cave is a favourite picnic spot and is also famous for the adventure of exploring the creation from inside. It is located on the left side of River Beas and is very close to beautiful Prini Village.
Arjun Gufa is mostly associated with the legendary figure, Arjun, one of the Pandava Brothers. It is believed that Arjun meditated in the cave by the banks of River Beas for years. Lord Shiva, pleased with his devotion and dedication, blessed him with the Pashupata Astra.
More Place to Visit in Manali